Yoshi-yaki (Reed Burning) in Watarase Yusuichi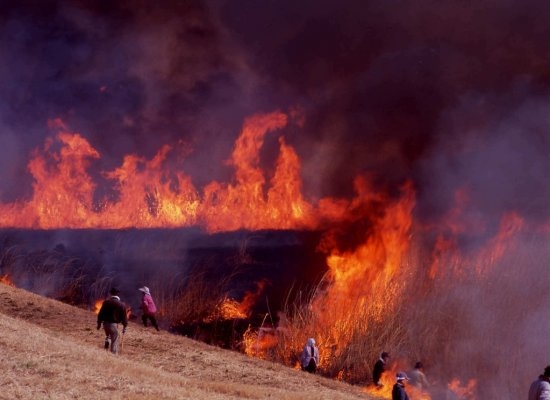 Watarase Yusuichi (Watarase Wetlands) is one of the biggest wetland in Japan and has protected the lives and properties of urban areas from floods. It is also the treasure house for many species of animals and plants including endangered flora and fauna species and was registered to the Ramsar Convention Wetlands.

Yoshi-yaki is done every year to get rid of the worms in Yoshi and to prevent the bush fires from spreading to nearby houses as well as to protect the invaluable wetland environment.

The smoke, dust and ashes from Yoshi-yaki may be wide-spread due to the wind or up-current of the air and may blow onto surrounding properties. Please watch out for laundry hung outdoors and be aware when opening or closing windows."
Basic Information
| | |
| --- | --- |
| Address | Fujioka-machi, Tochigi-shi, Tochigi |
| Telephone Number | 0282-62-0919 |
| Website | http://watarase.or.jp/ |
| Date | Sat. Mar. 21, 2020(To be postponed to Sun. Mar. 22 or Sat. Mar. 28 in case of rain or strong wind.) |
| Time | from 8:30 a.m |
| Venue | Watarase Wetlands(From 5:00 p.m. on the day before Yoshi-yaki, the whole area of the Watarase Wetlands (except for the golf field) will be closed-off.) |
| Map Code | 45 755 822*50 |
Southern Area
This area boasts evocative historical buildings and townscapes, such as the Ashikaga School, known for being the oldest school in Japan, and Kura no Machi, a district where buildings from the mid-19th century, a time when the area prospered as a commercial district, still stand. At Ashikaga Flower Park, you can see 350 blooming wisteria flowers, flowing downward from above, creating a world of enchantment.