Ohira Town grape complex(Grapes picking)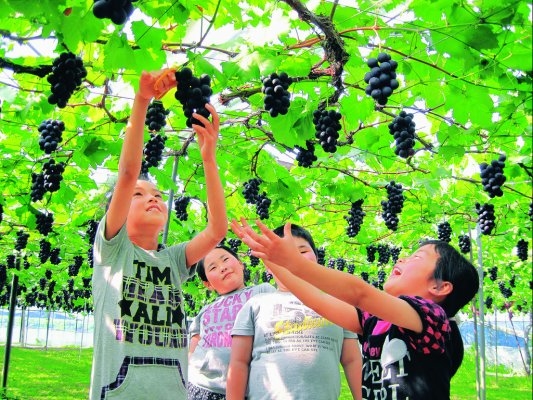 The Fruit Line spreads off into the distance on either side to the east and west with Mt. Ohirasan at north, and the foothills south of Mt. Ohirasan are home to very active grape cultivation.

The area centered on the Nishiymada region and spreading to Shimominagawa and Tomita composes the region known as the "Budo Danchi" or "grape collective".

Within the region, said to be the largest in northern Kanto, there are nearly 70 tourist grape farms where visitors can enjoy grape picking, mainly of Kyoho grapes, from the beginning of June to the beginning of October."
Basic Information
| | |
| --- | --- |
| Address | Nishiyamada, Ohira-machi, Tochigi-shi, Tochigi |
| Telephone Number | 0282-43-8288 |
| Date | June - Early October |
| Map Code | 64 651 396*25 |
Southern Area
This area boasts evocative historical buildings and townscapes, such as the Ashikaga School, known for being the oldest school in Japan, and Kura no Machi, a district where buildings from the mid-19th century, a time when the area prospered as a commercial district, still stand. At Ashikaga Flower Park, you can see 350 blooming wisteria flowers, flowing downward from above, creating a world of enchantment.