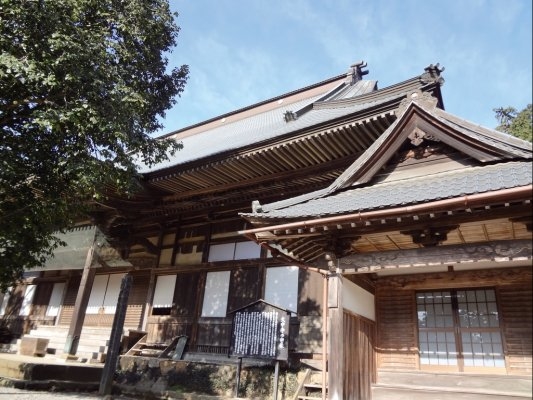 Daichuji Temple is a temple which is famous as the place where Uesugi Kenshin and Hojyo Ujiyasu made peace in 1568.
This famous Buddhist temple's main gate is a rare example of ancient temple architecture.

The grounds also include seven legendary "wonders": A hearth kept constantly lit to ward away a ghost; a set of stairs whose use is prohibited because they are said to bring bad luck; the "rootless" wisteria which grew from a cane; a well which is said to make the sound of horse hooves and neighing; a haunted toilet; a mountain to the east of the temple from which the sound of a wooden clapper can be heard by the head priest when danger threatens the temple; and a room where it is said that if you sleep in it, you will awaken lying in the opposite direction you fell asleep in.

The history of the temple goes far beyond this however as it was originally built more than 800 years ago. The temple had the confidence of Tokugawa Ieyasu during the Edo period, and until the end of the Edo period was in a position of command as first among 3 leading temple at the head of the Soto sect.

The temple is also home to a 200m path to the temple which is lined with hydrangeas and is spoken of in the Seven Wonders of the World and is also one of the "Tochigi Top 100 Scenic Places"."
Southern Area
This area boasts evocative historical buildings and townscapes, such as the Ashikaga School, known for being the oldest school in Japan, and Kura no Machi, a district where buildings from the mid-19th century, a time when the area prospered as a commercial district, still stand. At Ashikaga Flower Park, you can see 350 blooming wisteria flowers, flowing downward from above, creating a world of enchantment.