Nasukougen Seiryu no Sato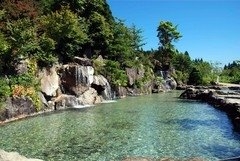 This facility offering hands-on nature experiences is located in Nasu County, Tochigi Prefecture. It features a fishing hole with a waterfall fed with a subterranean river from the Nasu Mountain Range.

There, visitors can char-grill and eat the river fish they catch. One of the facility's other attractions includes a soba restaurant. There, visitors can enjoy items such as their Tochigi Shamo Tsukesoba. "
Basic Information
| | |
| --- | --- |
| Address | 2714-2 Takaku Ots, Nasugunnasu-machi, Tochigi |
| Telephone Number | 0287-78-0337 |
| Website | http://www.seiryunosato.com/ |
| Business Hours | [Fishing pond] 9:00-16:00[meal] 11:00-16:00 |
| Days Closed for Business | Thursday (Open during Public holiday and Aug.) |
| Map Code | 548 509 885*25 |
Nasu Area
The Nasu area, in the northeastern part of the prefecture, is famous for the imperial villa located there, and is one of Japan's premier resort areas with its expansive highlands. The climate has allowed the development of a thriving dairy industry, and while there, you can visit a dairy farm that is open to tourists and offers delicious sweets made from milk, such as soft-serve ice cream and cheesecake. There are also many family-friendly facilities like Safari Park, amusement parks, and hot spring facilities like Shiobara Onsen.