Yuki Tsumugi Kimono Dressing at the Oyama Honba Yuki Tsumugi Craft Museum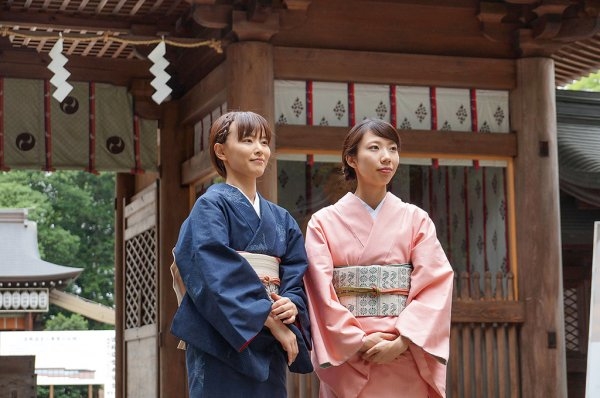 Experience wearing an authentic Yuki Tsumugi Kimono!
The Oyama Honba Yuki Tsumugi Craft Museum offers visitors the experience of wearing an elegant kimono made from the fine silk textile "Yuki Tsumugi". The process of refining the traditional Yuki Tsumugi silk is inscribed on UNESCO's Representative List of the Intangible Cultural Heritage of Humanity. In order to allow people to fully appreciate the comfort of their garments the museum provides all-day kimono rental including kimono and obi with dressing assistance included free. Enjoy a day of rambling around the traditional streets of Oyama before returning your kimono by 6pm. Come and experience the light and warm texture of genuine Yuki Tsumugi!
Basic Information
| | |
| --- | --- |
| Address | 3-7-1 Chuo-cho Oyama-shi |
| Telephone Number | 0285-32-6477 |
| Website | http://www.city.oyama.tochigi.jp/soshiki/42/368.html |
| Business Hours | Open 10am – 6pm |
| Days Closed for Business | Closed on Mondays (except public holidays, in which case the museum is closed the next working day) and during July and August |
| Price | Free *Rentals of Nagajuban (underwear for Kimono) and a pair of Tabi socks are available with cleaning fees (about 2,000 yen).*Booking one week before your visit is required. |
| Map Code | 74 217 151*62 |
Southern Area
This area boasts evocative historical buildings and townscapes, such as the Ashikaga School, known for being the oldest school in Japan, and Kura no Machi, a district where buildings from the mid-19th century, a time when the area prospered as a commercial district, still stand. At Ashikaga Flower Park, you can see 350 blooming wisteria flowers, flowing downward from above, creating a world of enchantment.