One of the best attractions at Kinugawa Onsen
Jump in a rubber boat and work together with your fellow rafters to navigate the white water. Experience the natural surroundings in a way unknown to drivers or walkers. Follow the flow of the river, listen to streams and birds singing, dive into the water from the surrounding rocks, and fly down the rapids as if on a roller coaster, a variety of thrills are waiting for you!
0288-70-1181 (NAOC)
0288-77-2030 (Nikko Nasu Outdoor Service)
0288-77-4802 (eRafting)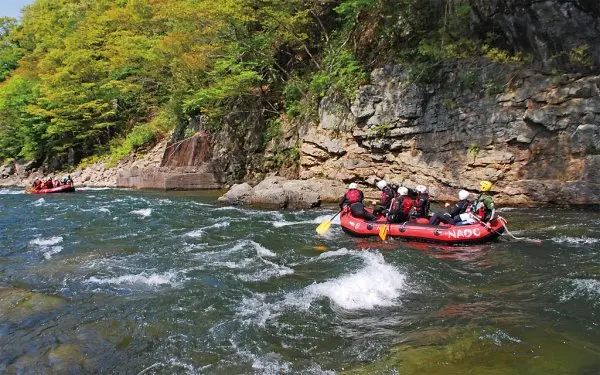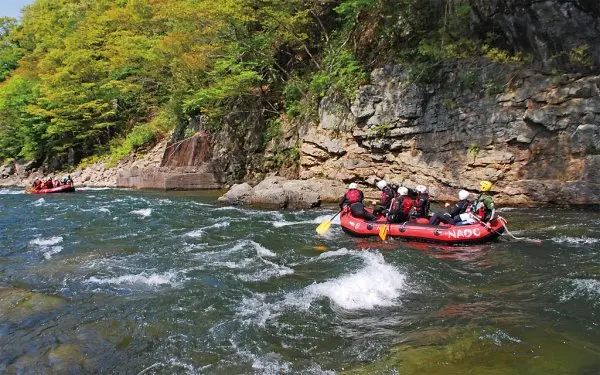 Nikko Area
The Nikko area, in the northwestern part of the prefecture, is particularly mountainous. In the midst of the rich nature, including the 2,486-meter-high volcano Mt. Nantai, Lake Chuzenji, and Kegon Falls, there are numerous shrines and temples that are registered as UNESCO Cultural Heritage sites. From Kinugawa Onsen to Kawaji Onsen, hot springs can also be found throughout the area. There are a wide range of outdoor activities to enjoy as well, such as stand-up paddleboarding in the summer and snowshoeing in the winter.