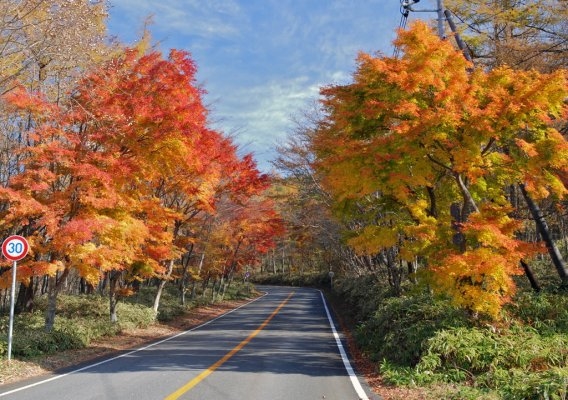 This 1000-meter-high and 28 kilometer-long scenic route connects Kinugawa Onsen with Shiohara Onsen. It has many scenic spot with natural beauty to enjoy such as Taikooroshino Falls and Shirataki Falls.
The views from the Fujimidai observatory are also excellent. The fall foliage is especially beautiful around mid-October to early November each year. The Kinugawa Onsen and Kawaji Onsen hot springs districts are also located nearby.
A toll is required to access the road."
Nikko Area
The Nikko area, in the northwestern part of the prefecture, is particularly mountainous. In the midst of the rich nature, including the 2,486-meter-high volcano Mt. Nantai, Lake Chuzenji, and Kegon Falls, there are numerous shrines and temples that are registered as UNESCO Cultural Heritage sites. From Kinugawa Onsen to Kawaji Onsen, hot springs can also be found throughout the area. There are a wide range of outdoor activities to enjoy as well, such as stand-up paddleboarding in the summer and snowshoeing in the winter.