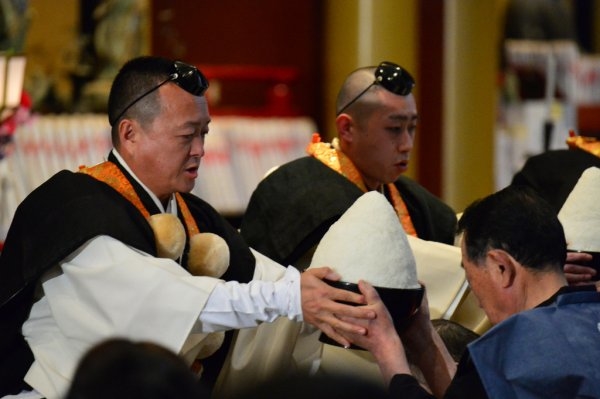 *Gohanshiki has been cancelled in 2020.

This traditional ceremony is still observed only at Nikkosan Rinnoji Temple. In this ceremony, people are forced to eat a large amount of rice. Cooked rice are offered on a large plate and every grain are urged to eat. The big bowl contains 5.4 litres of rice. No one actually eats the rice, but it is said that those who participate in the ceremony will have a family fortune and a healthy life. This sacred rice dedication ceremony is part of Nikko's ancient mountain Buddhism.

By doing that, it is believed that the blessing of Buddha will immediately eradicate the Seven Major Misfortunes such as fire, floods, devils, etc., and the people will receive the Seven Major Fortunes.

It is said that even feudal lords such as the Tokugawa Shogun Families and other famous feudal lords across Japan joined this ceremony in the Edo period."
Nikko Area
The Nikko area, in the northwestern part of the prefecture, is particularly mountainous. In the midst of the rich nature, including the 2,486-meter-high volcano Mt. Nantai, Lake Chuzenji, and Kegon Falls, there are numerous shrines and temples that are registered as UNESCO Cultural Heritage sites. From Kinugawa Onsen to Kawaji Onsen, hot springs can also be found throughout the area. There are a wide range of outdoor activities to enjoy as well, such as stand-up paddleboarding in the summer and snowshoeing in the winter.