Nikko Natural Science Museum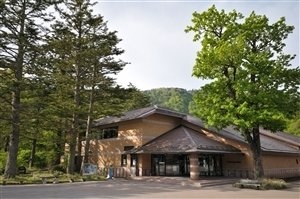 A facility where you can experience the nature and history of remote wilderness of Oku-Nikko.
Alongside a handful of interactive experiences and natural and cultural exhibits, Nikko Natural Science Museum acts as an information center for Okunikko's nature and sightseeing spots.
A large cinema screens film about the four seasons in Okunikko in 4K. On the first floor, one circuit presents the geology of the area (creation of the huge caldera by the eruption of Mt Nantai), the different ecosystems and abundant local wildlife (bears, birds, fish etc). A second circuit charts the history of economic and cultural development in the former Shimotsuke Province. It is recommended to visit before your next trip."
Basic Information
Address
2480-1 Chugushi, Nikko, Tochigi
Telephone Number
0288-55-0880
Website
https://www.nikko-nsm.co.jp/en/nnm.html
Business Hours
4/1-11/10 9:00-17:00
11/11-3/31 10:00-16:00
※Admission ends 30 minutes before the closing time.
Days Closed for Business
5/1-11/30:Open throughout the period
12/1-4/30:Mondays(if it is a public holiday,it will be switched over as a latter event)
New Year's holiday:12/29-1/3
Price
Adult (age 16 and above) 510yen
Child (age 4-15) 260yen
※Free admission for visitors presenting a physical disability record book, a nursing record book, a mental disability record book.
DIRECTIONS
45 minutes from Nikko Station or Tobu-Nikko Station by buses bound for Chuzenji Onsen to Chuzenji Onsen bus stop.
Map Code
367 240 251*76
Nikko Area
The Nikko area, in the northwestern part of the prefecture, is particularly mountainous. In the midst of the rich nature, including the 2,486-meter-high volcano Mt. Nantai, Lake Chuzenji, and Kegon Falls, there are numerous shrines and temples that are registered as UNESCO Cultural Heritage sites. From Kinugawa Onsen to Kawaji Onsen, hot springs can also be found throughout the area. There are a wide range of outdoor activities to enjoy as well, such as stand-up paddleboarding in the summer and snowshoeing in the winter.