Nasuno Furusato Fireworks Display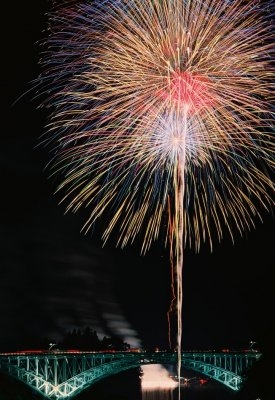 This summer event is popular among those who call Nasuno home.
A seasonal event held in the summertime, the Nasuno Furusato Fireworks Display ("furusato" meaning "hometown" in Japanese) is beloved by many local residents. It is held every year with the goals of fostering love for Nasuno among those who call it home, making the town a bright and cheerful place, and inspiring hope and inspiration in the children who are our future.
Basic Information
| | |
| --- | --- |
| Address | 64- Suehiro-cho, Nasushiobara |
| Telephone Number | 080-4197-4755 |
| Website | http://那須野ふるさと花火大会.com/ |
| Date | Held every even number yearWeekends in early August |
| Time | 7:00 pm - 9:00 pm (Tentative) |
| Venue | Nakagawakahan-undo Park |
| Map Code | 121 831 287*76 |
Nasu Area
The Nasu area, in the northeastern part of the prefecture, is famous for the imperial villa located there, and is one of Japan's premier resort areas with its expansive highlands. The climate has allowed the development of a thriving dairy industry, and while there, you can visit a dairy farm that is open to tourists and offers delicious sweets made from milk, such as soft-serve ice cream and cheesecake. There are also many family-friendly facilities like Safari Park, amusement parks, and hot spring facilities like Shiobara Onsen.