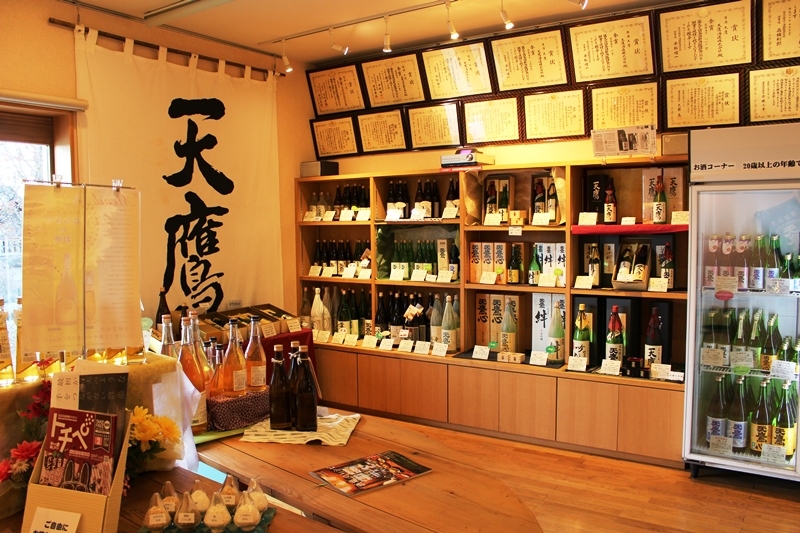 Tour of a small sake brewery in the countryside surrounded by rice fields
Tentaka Brewery is a small brewery nestled in the countryside, surrounded by rice fields.
The brewery seeks out the best ingredients for sake making, using top quality rice and groundwater from Mount Nasu in the northernmost part of the prefecture. Since its establishment, its dry sake has been a hit with the locals, and it has also been the subject of much acclaim internationally, winning multiple awards at the International Wine Challenge.

The brewery has also begun producing organic sake made with organic rice grown in accordance with Japanese Agricultural Standards, expanding the possibilities for organic agriculture and organic food and drink and helping to revitalize the local economy. It has also been actively experimenting with new product development, creating products that only a brewery can produce, such as honey sake made by fermenting honey with sake yeast.

Tentaka Brewery regularly conducts tours showing parts of the brewery which people usually don't get the chance to see, such as the rice mill and kiln, which have been well-received by visitors. Tours are open to individuals as well as groups, so please contact them if you're interested. The brewery store offers tasting of a range of over 15 seasonal sakes (9:00 am - 4:30 pm) as well as raw sake and vintage sake which is normally not available for purchase by bottle, but can be purchased by volume (measured in go) in-store. They will also be happy to help you find your favorite sake by offering recommendations of their best blends or letting you create your own original blend, so don't hesitate to drop by.

Basic Information
| | |
| --- | --- |
| Address | 2166 Hiruhata, Otawara-city, Tochigi |
| Telephone Number | 0287-98-2107 |
| Website | http://tentaka.co.jp/en/ |
| Business Hours | 9:00-17:00 |
| Days Closed for Business | Open all year except New Year's Day (* Temporary holidays will be announced on the website. Please check in advance) |
| Price | Brewery TourStandard CourseDuration: 30 minutes (rice polishing station, kiln, tasting)Start Time: 11:00 am - 3:30 pm (Oct - Apr) 9:00 am - 3:30 pm (May - Sep)Price: ¥550 (tax-inclusive, includes ¥500 shopping voucher)Special CourseDuration: 60 minutes (brewery tour including rice polishing station, kiln, yeast starter station, mashing station, filtration station, etc., tasting)Start Time: 11:00 am - 3:00 (Oct- Apr) 9:00 am - 3:00 pm (May - Sep)Capacity: 10 people (negotiable)Price (includes lab coat): ¥1,100 (tax-inclusive, includes ¥500 shopping voucher)*For safety reasons, only those of junior high school age or older may participate.*Shopping vouchers may be used for purchases at the Tentaka Brewery shop. (Valid for 3 months)Reservation required (online, phone) Online (only email from HP): English, Japanese Phone: Japanese only |
| Map Code | 121 207 032*15 |
Nasu Area
The Nasu area, in the northeastern part of the prefecture, is famous for the imperial villa located there, and is one of Japan's premier resort areas with its expansive highlands. The climate has allowed the development of a thriving dairy industry, and while there, you can visit a dairy farm that is open to tourists and offers delicious sweets made from milk, such as soft-serve ice cream and cheesecake. There are also many family-friendly facilities like Safari Park, amusement parks, and hot spring facilities like Shiobara Onsen.